The WEDDING of your dreams
Your corporate TOURNAMENT
Plan your event at a top private reception hall
The WEDDING CELEBRATION
of your dreams
Beautiful setting . Attention to detail . Experienced professionals . Unparalleled service
Summerlea's gorgeously renovated clubhouse
provides more than simply a wedding reception hall. It offers an ambiance like no other, deep in
TRADITION, STYLE AND ELEGANCE.
We offer outstanding wedding packages highlighting our vast facilities, both interior and exterior, and
our professionals provide an experienced guiding hand in your event planning.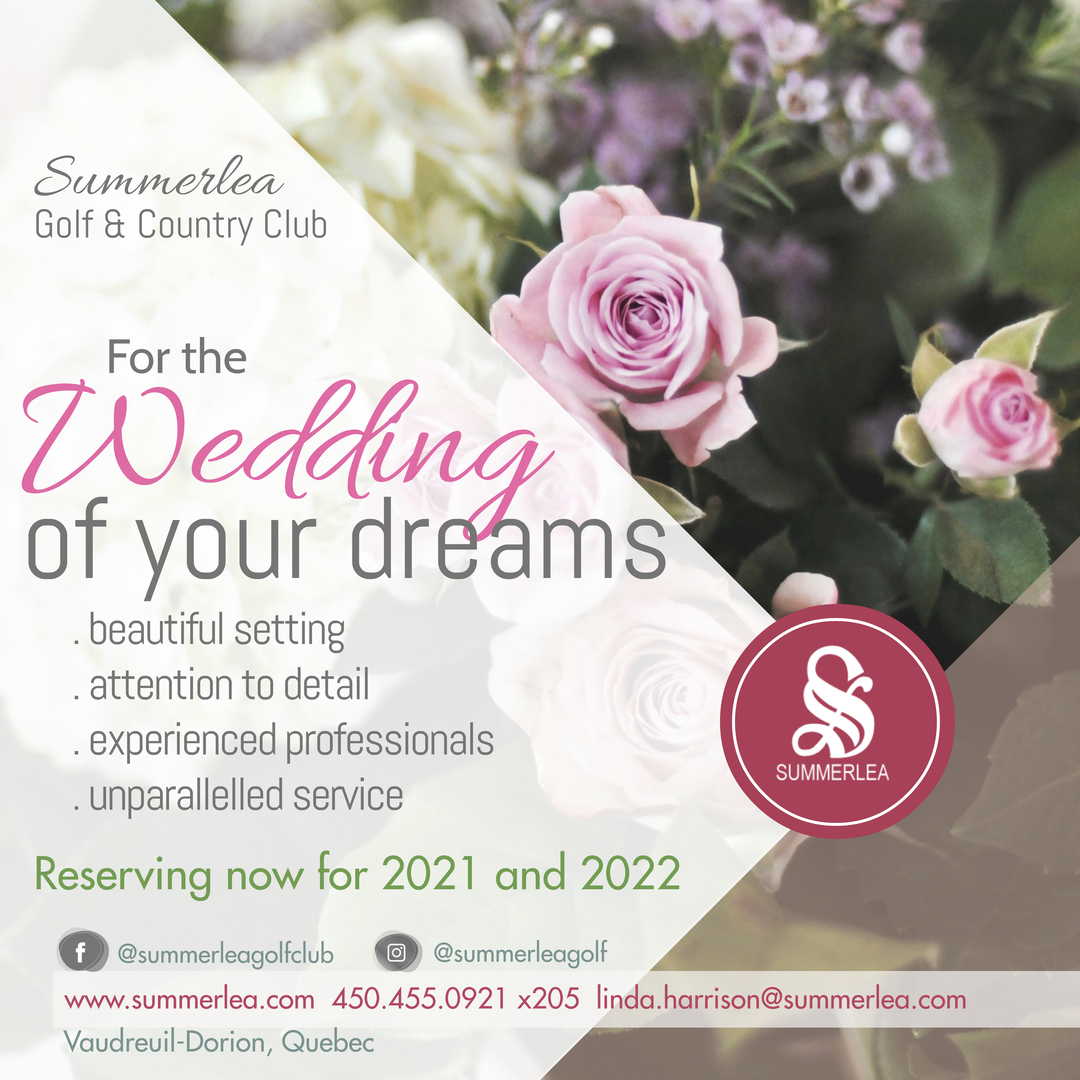 Host your GOLF TOURNAMENT
An exceptionally beautiful setting for your golf tournament.
Our team of professionals will assist you in planning every aspect of the day to ensure its unrivalled success.
Summerlea's distinctive advantages
Two 18 hole championship courses that can accommodate large and small events, top-notch cuisine, an elegant and modern dining room, as well as a convenient location that is in close proximity to the West Island and a pleasant 35-minute drive from downtown Montreal, accessible by Autoroutes 20, 30 and 40.
Our tournament package includes:
Options of brunch, lunch or BBQ

18 holes of golf with electric carts

Dinner or cocktail dînatoire

Lockers and spacious locker room facilities

Extensive practice facilities.
Summerlea can accommodate large tournaments up to 288 golfers.
For more information and details, please contact our
General Manager, Marco Jetté, at (450) 455-0921 ext. 204
marco.jette@summerlea.com
- - - -
Our event dates fill quickly so don't miss your opportunity!


Whether for a group small or large
Summerlea's professionals will help you organize your special event.
We have menu options available for all budgets and our service will exceed your expectations.
For event hosting or wedding reception information
Contact our
General Manager
MARCO JETTÉ
450-455-0921 ext 204
marco.jette@summerlea.com