State-of-the-art simulators make winter golfing possible
Being an avid golfer stuck in the middle of a long winter can be torture. It really doesn't feel fair that golf season is limited to part of spring, summer and if we're lucky, half of autumn. As we enter the worst weather months of the year, reality has set in that we won't be on a golf course again for nearly six months, barring a vacation down south.
Fortunately, there are now clubs that allow golfers to satisfy their craving by offering advanced golf simulators at their venue. Golf Exécutif Montreal's clubhouse is about as close as it gets to a golf sanctuary to take your mind off the long winter. Executif has one of the most stunning clubhouses in the world. British architecture firm Dezeen actually listed Executif as one of the top 10 stadiums and sports centres.
Le Digital

Golf Executif's Le Digital space is equipped with four Trackman golf simulators. Two of their machines come with their own private space with lounge seating, ideal for small groups. The other pair of simulators have their own bar and multi-use space, helping accommodate larger groups.
With the advancement in technology and the extremely comfortable setting, golfers no longer have to worry about getting rusty over the winter. The simulators allow players to virtually play on some of the most famous golf courses in the world. Those who are new to the game can develop an interest in it, without experiencing the frustrations golfers have on an actual course, like searching for balls in a forest, or worrying about weather conditions.
Want to organize a birthday party? How about hosting a client for a business meeting in the months you can't offer them an outdoor round of golf? Whatever your reason, golf no longer has to be a seasonal activity.


Exécutif Gains The Edge With Trackman Simulators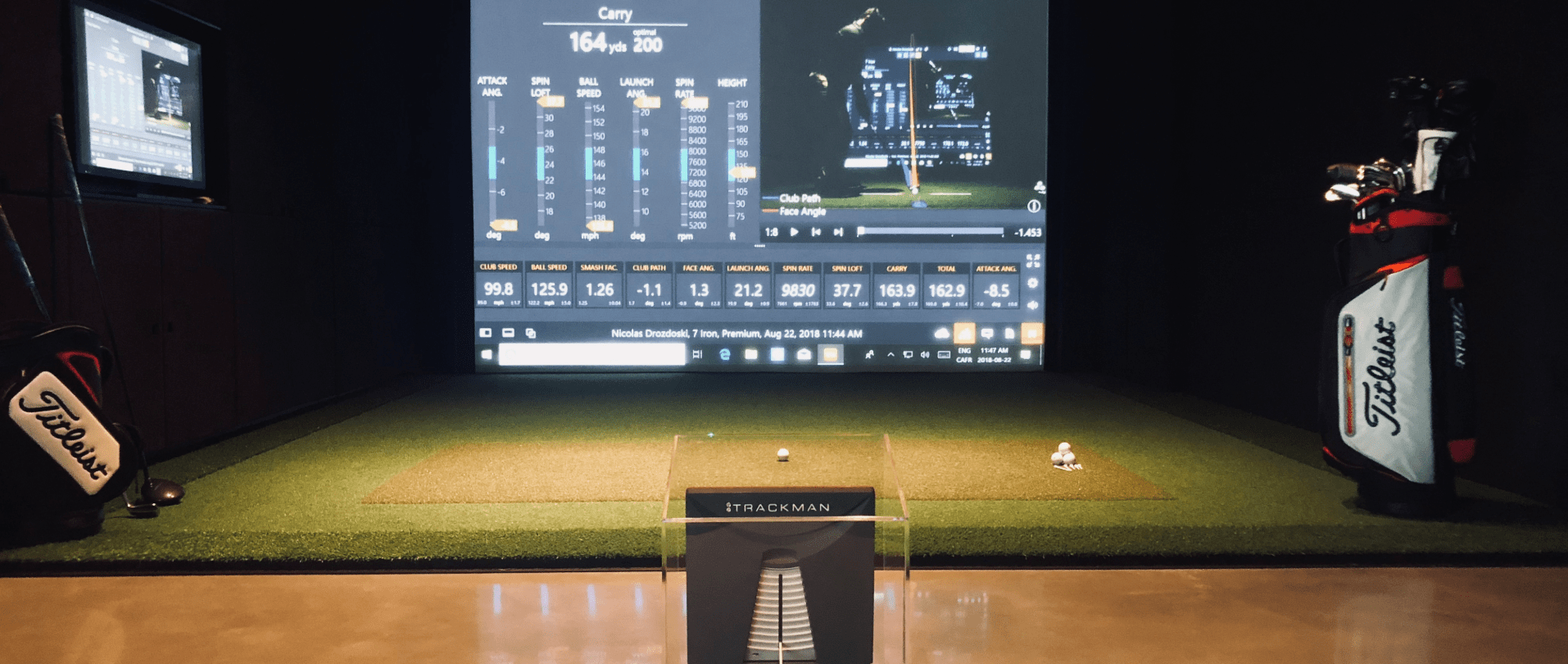 Using Trackman technology, golfers using these simulators get the most powerful swing analysis tool available. With its dual radar technology and camera, Trackman captures all relevant data from your swing and simultaneously takes a video of your performance. It also offers the best graphics in the industry, ensuring you get the most realistic virtual golf experience possible.
Executif's CPGA certified golf instructors are available all winter. Golfers can book private lessons just as they would during summer. Booking winter lessons will give you a serious edge over your buddies come spring and they'll have no idea how you got better in the offseason.
Exécutif's Modern Facility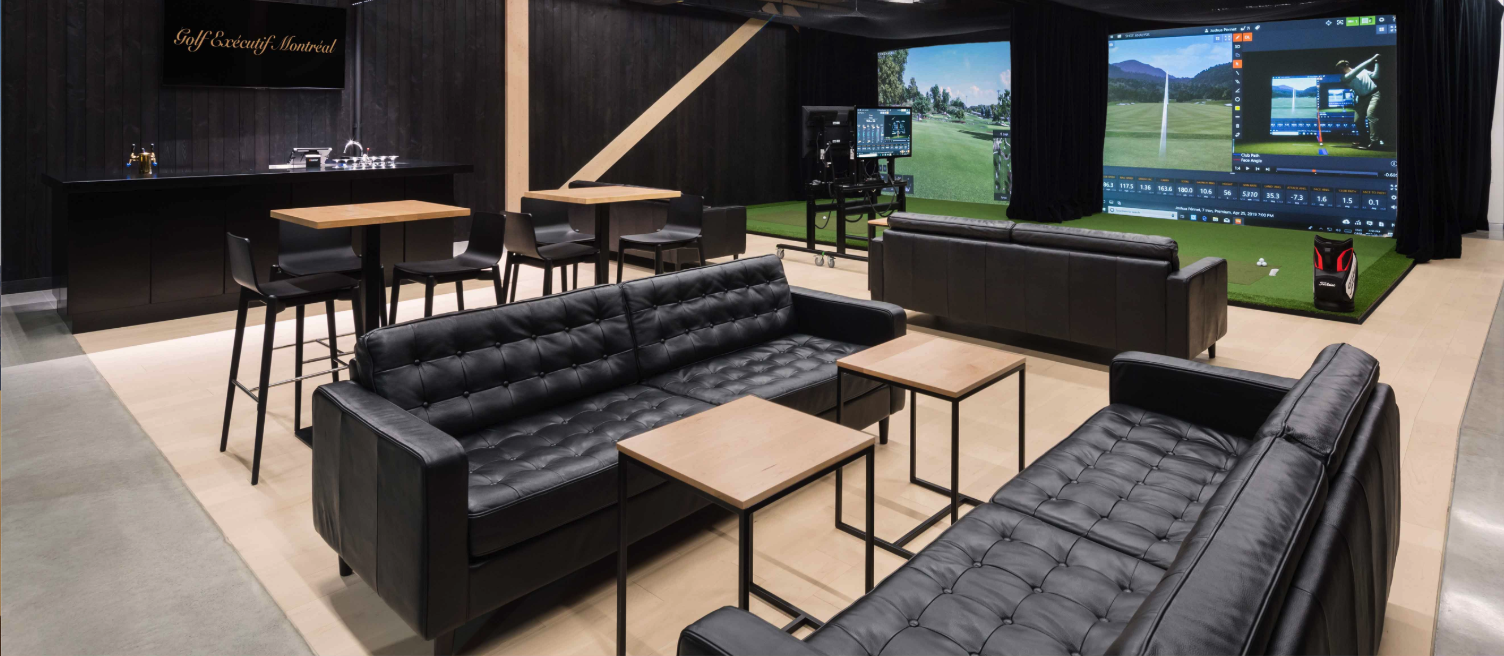 We'd be remiss if we didn't mention Golf Executif's stunning clubhouse. Its design is all about utilizing open space. With the building measuring 855 sq metres, the space is divided logically, with an open concept lounge. There is no obstructed view of the beautiful bar, and the warm lighting makes it easy to relax. The club also has a fully-stocked pro shop, administrative offices and a reception hall.
We'd be remiss if we didn't mention Executif's La Loge space, which combines the elements of their Le Digital and Le Lounge spaces to form the perfect event space for corporate events or personal parties.
Booking Your Virtual Tee Time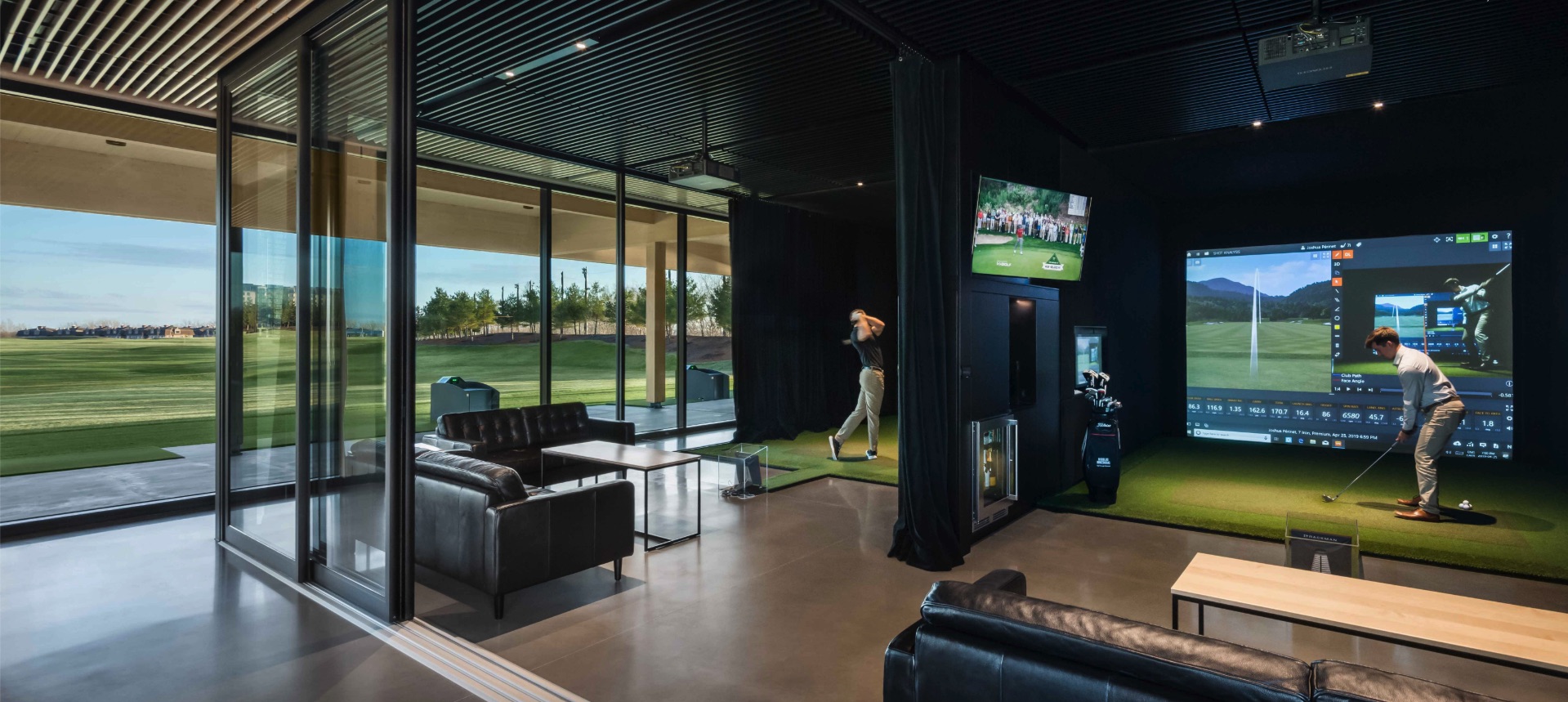 With this powerful technology available over the winter, there is an increased demand for the use of these machines. Luckily for clubs offering software like this, GGGolf offers a module dedicated to simulator bookings, which functions very similarly to GGGolf's tee-time reservation software.
Executif offers a wide range of packages in booking simulators, with group prices and the option to book nine or 18 hole tee-times.
Their packages also come with premium beverages (signature cocktails, glass of fine wine, glass of premium alcohol) and a selection of snacks to share.
Casse Croute Menu:
Nachos
Lobster Rolls
Chicken Nuggets
Fries or Sweet Potato Fries
Veggie Cheese Burger Sliders
Chicken Burger Sliders
Onion Rings
Pogo Bites
Poutine
---
Tapas Menu:
Fish Tacos
Tomato Tartar
Berry Bruschetta
Buffalo Cauliflower Wings
Vietnamese Lettuce Wraps
Mushroom Scallops
Avocado Toasties
Gnocchi Bites
Pork Bites
*Golf Exécutif's tapas style menu is 100% plant based, making it the first golf club in the world to offer a 100% plant-based menu.
To book your tee time or lesson at Golf Executif Montreal, you can contact them here.
--------------
For over 18 years, GGGolf has been the go-to software for golf clubs across the country, offering a wide range of options to respond to the different business needs of golf clubs. GGGolf is dedicated to constantly updating its software for all of its customers while making sure the golf clubs are well taken care of.
When it comes to booking a tee time for your golfing needs, GGGolf has the perfect platform in the Minutegolf portal -- your reference for golf bookings, tee times, discounts and golf packages!
Find a Tee Time online today, or download the Minutegolf app on iOS or Google Play. If you are in need of anything for your golf club, please reach out to GGGolf at 450-641-4241 or send a quick email to This email address is being protected from spambots. You need JavaScript enabled to view it..